Expert Carbon Monoxide Detector Installation in Everett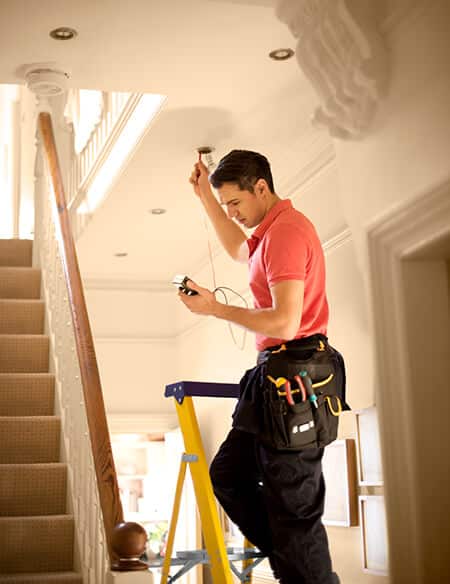 Turn to Brennan Electric when you need a smoker detector or carbon monoxide detector installation in Everett, WA. We're known throughout the Puget Sound area for our attention to detail.
Our team is determined to provide reliable solutions that will guarantee the well-being of your household. We pride ourselves on attaining outstanding results on every visit. Our licensed and bonded electricians are fully qualified to perform any installation safely and competently. That's why we have an A+ rating with the Better Business Bureau.
You can expect us to display honesty, integrity and transparency in business. Each member of our staff displays the utmost professionalism. This may be why we've won the Angie's List Super Service Award 13 times in a row.
Why clients work with us:
Highly-trained and qualified electricians
Excellent reputation and great reviews
Convenient and hassle-free scheduling
Personal and attentive customer service
Trusted Smoke and Carbon Monoxide Detector Services
Since carbon monoxide is odorless and colorless as well as poisonous, a device to detect it can be vital. Smoke alarms may be the only thing standing between you and a preventable crisis in your home. At Brennan Electric, we're a trusted source for carbon monoxide and smoke detector installations in the Everett region. Our electricians promise to arrive early and get the job done expeditiously. Despite working quickly, we never compromise the quality of our installations. We're prepared to answer all your questions in order to help you determine the most suitable solution for your needs. There are signs that you should install a new carbon monoxide or smoke detector.
Replace your detector if it:
Fails to go off when tested
Frequently gives false alarms
Shows signs of aging or is obsolete
Responds too slowly to urgent situations
Effective Electricians in Everett
For dependable carbon monoxide or smoke detector installations in Everett, count on the crew from Brennan Electric. The key to our consistency is our qualified group of skilled electricians. They possess all the know-how and certifications needed to meet the highest standards of safety and competence. We'll also behave courteously and maintain a tidy work area whenever you invite us into your home.
Your Choice for Detector Installation
Trust the team from Brennan Electric to handle your carbon monoxide detector installation in Everett. We also perform smoke detector installations. Our rates are fair and affordable, but you can't put a price on the safety of your family. Our crew understands the importance of delivering cost-effective solutions. You'll receive a detailed estimate before we begin. We'll find reliable and durable devices that work well for your household.
For more information about installing smoke and carbon monoxide detectors in Everett, call Brennan Electric today.