Trustworthy Tacoma Carbon Monoxide Detectors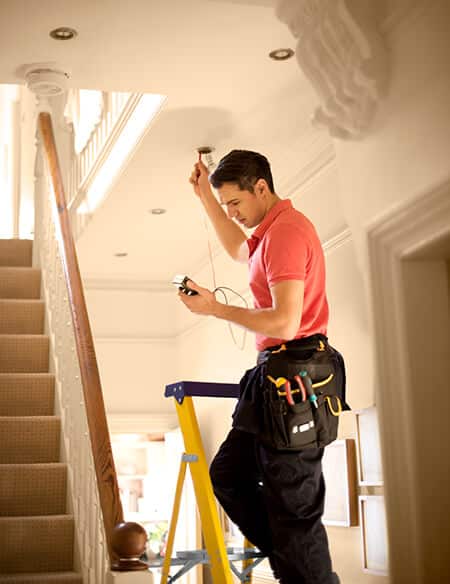 Since 1987, customers in Tacoma, WA, and the surrounding communities have turned to Brennan Electric for safe, dependable carbon monoxide and smoke detector installations. We strive to provide you with the great service that you deserve, and we're proud of our A+ ranking from the local Better Business Bureau.
We offer the following:
Competitive pricing
Flexible and convenient service hours
Free written estimates
Commitment to customer satisfaction
We take your safety and the safety of your family in Tacoma seriously. We know that our commitment to quality services is the reason that we've received Angie's List Super Service Award for 13 years in a row. Our company is fully licensed and insured, and our experienced electricians are bonded for your safety and protection.
Carbon Monoxide Detector Installations
Smoke and carbon monoxide detector alarms are a vital component of your home's safety systems. In most house fires, smoke and potentially lethal gases spread more quickly than the flames themselves. Working smoke detectors and carbon monoxide detectors could mean the difference between life and death, and we're the team to trust with this important home service.
Common places we install detectors:
Outside sleeping areas
Inside bedrooms
In the living room
In the basement
Near stairways
The electricians at Brennan Electric in Tacoma are experienced with both ionization and photoelectric smoke detectors and carbon monoxide detectors. We'll be happy to give you recommendations, which can help ensure that the appropriate model is installed in your home. Once your detectors are installed, we can teach you how to test them, too, which should be done on a monthly basis.
Trained Electricians at Your Service
At Brennan Electric, we maintain high standards for the employees we hire in our Tacoma office because we pride ourselves on the high quality of the electrical services we provide. At a minimum, the electricians on our team are journeymen electricians. That means they've completed their apprenticeship training and have successfully passed a rigorous qualifying examination. Our electricians have a full understanding of electrical theory and the National Electrical Code. Should they run into situations where they need further guidance, we have an electrical administrator on staff who is available during working hours.
Schedule With Us Today
Brennan Electric is interested in developing long-term relationships with the customers we serve throughout Tacoma and other parts of the Puget Sound region. We'll work hard to win your loyalty and trust. We understand what an important role the right kind of smoke detector and carbon monoxide detector can play in the protection of your home. We'll install these safety devivces so that they operate the way they were designed to function.
Learn more about our electrical services in Tacoma and the many ways we're here to serve you. Contact our office and set up a service call today!